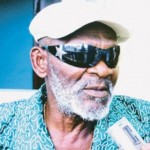 Octogenarian singer, Pa Fatai Olayiwola Olagunju better known as Fatai Rolling Dollar has lost one of his wives to the cold hands of death. The legendary 86-year-old musician lost his wife yesterday, Friday, November 23, 2012.
Confirming the death news to media people when contacted on phone, Pa Fatai Rolling Dollar told us that his first wife, Olaitan Olagunju, died after some months in the hospital. Disclosing to media the cause of his late wife's death, Pa Fatai Rolling Dollar said that in one of the Decembers, prior to Christmas celebration, a firework was thrown into his house which affected his late wife's leg.
Several efforts to treat and heal the leg proved abortive until she died yesterday. Pa Fatai is one Nigerian music in his 80′s that is still relevant in the game. He has been featured by up and coming hip hop artistes in their songs.
Pa Fatai Rolling Dollar reportedly got married again to Bunmi Akinbo in 2011 at the age of 85. He trained Evangelist Ebenezer Obey-Fabiyi. Pa Fatai Rolling Dollar is popular with his hit song, 'Won Kere Si Number Wa'.