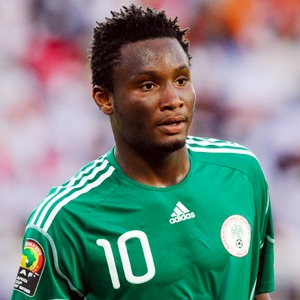 CHELSEA midfielder, Mikel Obi has decided to defy his doctors advice and play for Nigeria against Namibia on a synthetic pitch tomorrow despite the doctor's fears of aggravating his recent hip injury.
Namibia's 10,300 capacity Sam Nujoma Stadium in Windhoek where tomorrow's World Cup qualifier will be played, has a synthetic surface. Over the last two months, Mikel missed over half a dozen Chelsea games due to a hip injury and doctors have warned him that playing on a hard artificial pitch might make it recur.
However, with Nigeria desperate for three points in tomorrow's game to sew up the leadership of Group F, the stakes are high and Mikel has decided it is worth the risk. With two games left, Nigeria tops the group with eight points, followed by Malawi with six and Namibia with four, while Kenya props up the table with two points.
If Nigeria wins tomorrow and Malawi fail to defeat Kenya in Lilongwe in their own game which will take place simultaneously, the Eagles will have won the group. It will make Nigeria's final match against Malawi in Calabar in September academic, so Mikel and team officials have decided it is worth the risk.