Meet Our Management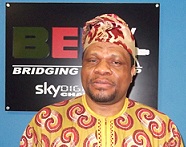 Godson Azu
My name is Godson Azu, and am a political anaylst, social commentator, motivational speaker and campiagn strategist.
A graduate of Internationa Relations and Politics, from both Birbeck college of University of London, and London Metropolitian University. A member of many political and social organizations, with strong passion for ethnic minority and African political leadership orientation.

He is to be the Radio Studio and Facility Manager" and would be overseeing the running of the stations activities, "FreeVoice Radio.com". With his vast knowledge and proven experience in the media, which includes TV commentary, political writing, and producing. He would be responsible with the planning and organizing of the radio programs and productions which would be focusing on various issues affecting the Afro-Caribbean ethnic minority group in Britain and Africa. And also the community engagement relations with an understanding of the British system.
Calling on: Presenters, DeeJays, Sound technicians, voice over artists e.t.c
Free Voice Radio is currently putting together it's weekly programme schedule and eagerly looking for Volunteering DJs, presenters and continuity announcers for the North London studios. We need Djs for all genre of music, you don't need to be experienced as training and assistance will be provided where necessary but 'a keen' interest in the job is a 'MUST'.

Shows are weekly and ranges from two to three hours in duration. If you've always wanted to spin tunes and rock the microphone, please get in touch with us through the contact page.

PLEASE, BE SURE TO SPECIFY 'VOLUNTEER' IN YOUR MESSAGE HEADER WHEN REPLYING.